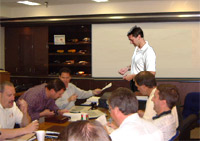 Eagle Group's commitment to you doesn't end with the purchase of our tools. Our goal is to educate you and your team on the most effective and efficient ways to utilize our tools; therefore, consistently producing a quality product.
One of the many benefits of purchasing Eagle Group tools is the opportunity to attend our Tool-U training. Eagle Group believes this is one of the greatest assets we can offer you. Eagle Group has spent valuable time and dollars in setting up a training program at our shared corporate headquarters with AIMCO in Portland, Oregon, that will enable your team to receive effective technical and practical training. Our training program is not performed in just one corner of our facility; virtually our entire facility is accessed for training individuals tailored to their specific needs and applications. This is essential for the continued success of our training.
The objective of the Tool-U program is to train your team from a technical aspect, learning how to effectively trouble shoot in order to reduce down time, as well as testing and proper use of the tool for maximum performance.
We depend on a diverse team of experts to train our customers. Our training programs have been designed to cover all elements influencing the fastening process. The first key to success is understanding the mechnaics of the fastened joint; we explore the synergy between the joint, power tool, torque measurement and operator handling. The knowledge you gain from participating in the Tool University program can be applied to almost any assembly process regardless of the tool brand.
Eagle Group is committed to ensuring you receive proper training and that this program is offered to our customers at no charge.
Please contact us at 1-800-852-1368 for information about the Tool-U training program and class schedule.